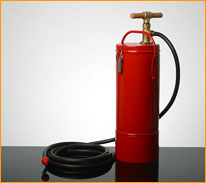 The Hand Pump to
Fill Up Cable Penetrations
An optimal auxiliary when filling KVM into hard to access cable penetrations.
Mix the two KVM components (Powder and Hardener) in a mixing container according to the processing instruction and then fill the compound into the pump. Put the end of the hose into the filling pipe of the ready prepared cable transit and pump the compound in.
© Intermarco

last update
02. January 2017