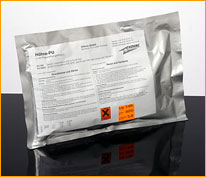 Optimal Protection from Climatic Condition
PUR coating varnish 300 is a solvent-free two package cast resin which, after hardening, is very resistant to effects of both the weather and to chemical influences.
The coating varnish is used for outdoor cable transits on decks to protect them against aggressive influences like saltwater.
The mixture can be painted or poured and is applied onto the dry KVM Sealing Compound surface with a layer thickness of 2 - 3 mm.
© Intermarco

last update
02. January 2017